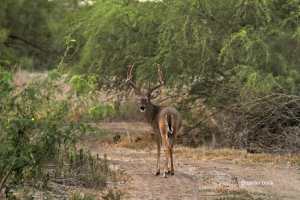 Beautiful "Turn-Key" River Ranch located in one of Frio County's prime areas. Featuring a mile of the Leona River bottom, excellent improvements and fantastic hunting, this exceptional property is set up and ready to go.
Properties of this caliber very rarely come available in this area of South Texas. This place is a "must see". The overall diversity of this ranch is outstanding. The majority of the property is typical Frio county red dirt country with excellent native brush and scattered Bull Mesquites mixed with some open to motted regrowth area. The South boundary of the ranch is the Leona River which is lined with large Live Oaks, Pecan and Elm Trees. There are several food plots along with good roads and senderos. The property is under wildlife exemption and there have been no cattle in the past 5 years.
The improvements consist of a nice two-story 3240+/- SF ranch house that was built in 2010. The house has 4 bedrooms and 3 full baths with an open kitchen, dining and living area. There are covered porches upstairs and downstairs and a large patio area which is connected to a no maintenance concrete pila pool. Located next to the main house is a 2 car garage with bunk room, walk-in cooler and covered game cleaning area. There is also an older 3 bedroom, 2.5 bath foreman's house located on the property.
The property has one water well and 3 stock ponds with one mile of buried 3″ PVC water line which is used to maintain all three of the ponds.
This ranch has been under high fence since 2010 and is currently under MLD. The owner has put much effort into developing the deer herd over the past 5 years. Most of the native deer were removed and replaced with 10 doe and 6 bucks from high quality stock at the beginning of the program. Along with the introduction of superior whitetail genetics, the owner also released 4 Red Deer hinds and 1 trophy Red Deer bull.
Other wildlife consist of a good number of Rio Grande Turkey, Javelina, Dove & Quail and plenty of Hogs outside the high fence along the river bottom.
This ranch is ready to hunt and there are several blinds and feeders in place.
This is a surface only sale, the seller is believed to own no minerals and there is no production on the ranch.
Property is located on County Road 4440, approximately 10 miles Southwest of Pearsall. Property is 1 hour from San Antonio.
Property Id : 1845
County: Frio
Acres: 440
Type: Acreage w/House
Similar Listings
Located in the most desired area of Frio County, this Ranch is without a doubt a Must See
[more]
Located in the most desired area of Frio County, this Ranch is without a doubt a Must See property for anyone looki
[more]
his productive farm offers 2 circle pivots with a combine total of 210 irrigated acres. Th
[more]
his productive farm offers 2 circle pivots with a combine total of 210 irrigated acres. The larger pivot field is a
[more]
Exceptional high fenced ranch located just South of Pearsall. This beautiful red dirt ranc
[more]
Exceptional high fenced ranch located just South of Pearsall. This beautiful red dirt ranch offers incredible habit
[more]